Laxmi brings authentic, nutritious, diverse spreads into your home!
Laxmi's Delights® manufactures all-natural, award winning, innovative gourmet lines of Flaxseed Spreads, Sweet Spiced Roasted Nuts, and Fruit Curry Sauces, proudly made with love in the USA! All the products are positively preservative and additive free, and are uniquely created using only the best organically sourced ingredients.
Our mission is simple – We Value Wellness®!
Laxmi's Delights, is the recipient of Super Bowl 50 Business Connect, 2015, San Francisco. Recipient of Google-Tuck Executive Education, 2017, San Francisco. Winner of Specialty Food Association's 2007 "Outstanding New Product," finalist, the specialty food industry's most prestigious award competition. Winner of Specialty Food Association's "Outstanding Innovation Nut Butter," 2014 Sofi Award finalist. Recipient of "Best New Functional Food," Gulf Food International Awards, 2010, Dubai, UAE.
Want to pick up a couple jars? Check out to see if we're in your neighborhood.
Laxmi's Delights signature line is widely available nationwide at gourmet food stores including Amazon.com, Costco, Kroger, Safeway, Whole Foods, Walmart and Wegmans. Since inception in 2007, Laxmi's Delights is known to deliver high quality products, excellent service and exceptional value. Our customers are our family.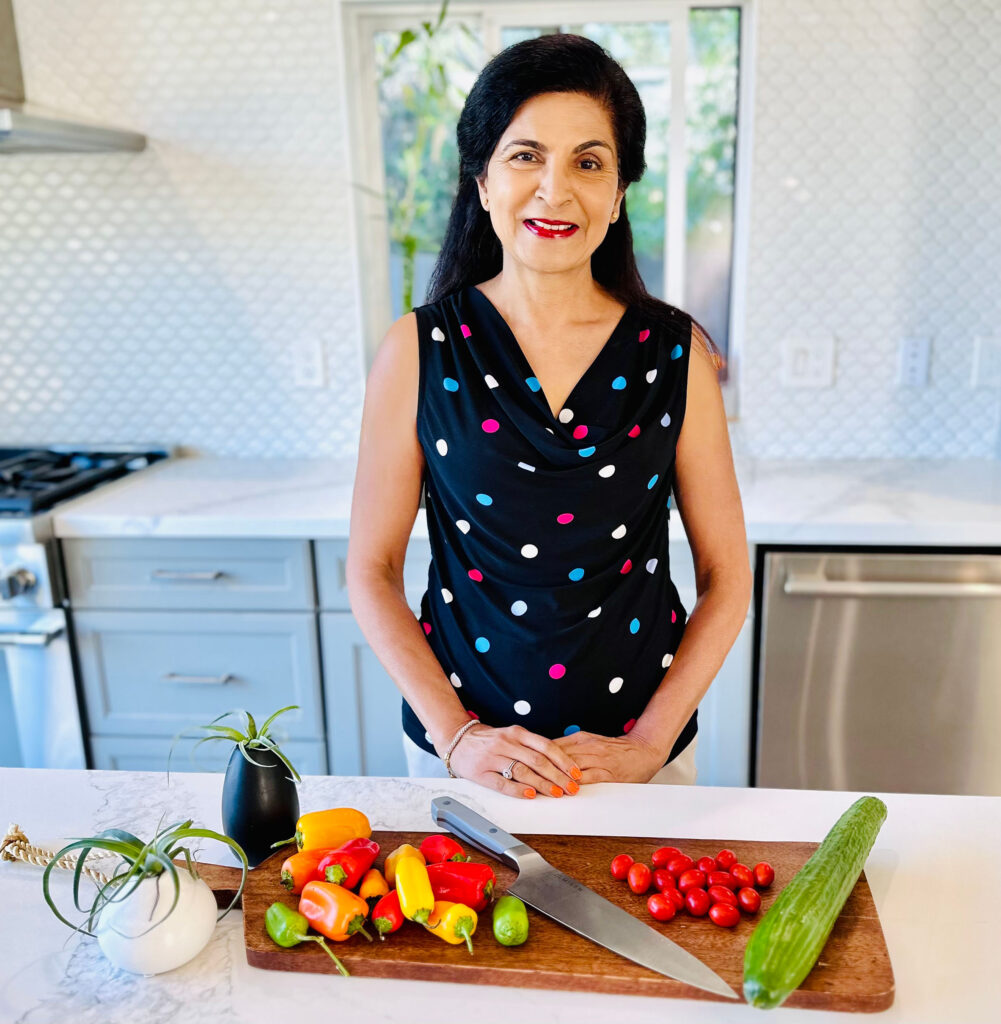 Laxmi started her business by accident, experimenting with a family recipe for Sweet Spiced Roasted Walnuts. With a Bachelor's of Science in Chemistry, this alchemist learned to balance taste and harmonious flavors. Her passion for creating homemade and healthy products led to the founding of Laxmi's Delights in 2007.
As the Sweet Spiced Walnuts grew to Whole Foods, Wegmans, and Kroger's, the positive feedback inspired Laxmi to expand with pecans, peanuts, and almonds. From there, other products evolved and little by little Laxmi was invited to share more of her story as her culinary genius took off.
What first started as a hobby became a passionate, lifelong commitment. She's authored a variety of cookbooks including the highly acclaimed "Laxmi's Vegetarian Kitchen," and "The Dance of Spices," published by John Wiley & Sons. She is one of the San Francisco Chronicle's most popular food writers. She has written for such publications as Gourmet, Bon Appétit, Better Homes and Gardens, Vegetarian Times, Sunset Magazine and Fine Cooking among others.
Her quest for bringing wellness to the forefront of people's minds is a labor of love preserved by generations grounded within her DNA. Growing up in India, Laxmi recalls her mother making hearty nutritious meals, combining varied tastes, colors and textures, to please both the eye and palate with the meticulous use of spices. She carries this unconditional love in Laxmi's Delights.
Laxmi is an artist at heart. Her childhood revolved around the brushstrokes and hues of rainbows. She was additionally trained in fine arts growing up in India and has created numerous oil paintings particularly seascapes, landscapes, still-life, and abstracts. She continued her passion for art in food.
Laxmi's Delights is a holistically devoted company committed to working alongside local and small farmers and leading the way in bringing awareness through active involvement in the community. Laxmi began her food writing career in Columbus, Ohio. Her first radio interview was in Kansas City to promote her book, "The Dance of Spices." Small beginnings hold special meaning and are close to her heart.
Laxmi's Delights support local and small farmers, and is actively involved in the community and regularly contribute to numerous charities through time, talents and in-kind donations. Laxmi was the Green Schools Committee Chair at Sustainable San Ramon. She helped pioneer organic gardens at local schools. Additionally she volunteers her time at numerous other organizations locally and nationally. Currently she serves as the President of CCOF, California Certified Organic Farmer's Big Valley Chapter https://www.ccof.org/chapter/big-valley.
Books and Literary Voyage
Laxmi's surprising and wonderful literary voyage began 25 years ago with a single recipe sent on a whim to the food editor of The Columbus Dispatch. Laxmi's lead stories were highly acclaimed at the well-known San Francisco Chronicle. Readers called to check whether she had written a cookbook. She was flattered and decided to generate a collection of recipes. Ultimately, her adventures in spicy experimentation led to the publication of her cookbooks. The dance of spices she witnessed in her mother's kitchen as she expertly used the plethora of spices in preparing the seasonings is what she has brought to the American table. "The Dance of Spices" published by John Wiley & Sons, is a compilation of her most favorite recipes and her personal stories in conquering one of the finest cuisines of the world.
As Food writer and author Laxmi has written extensively on Indian cuisine and has been published nationally since 1987. She is one of the San Francisco Chronicle's most popular food writers. She has also done that widely for over two decades in the food pages of Gourmet, Bon Appétit, Sunset, Vegetarian Times, and Fine Cooking among other publications, as well as nationally on television, Today Show, CBS, NBC, ABC and radio shows such as KGO and KNEW. Laxmi holds a Bachelor of Science in Chemistry. As well as credits in Business and Nutrition.
Laxmi's Creative Culinary Odyssey
If couple decades ago someone had asked Laxmi if she wanted to become a gourmet cook, she would have just laughed! A food writer? Not a chance! How about an entrepreneur? Are you kidding? Today she is all three!
Three decades ago when Laxmi first came to America, she did not know much about cooking. In her new home in Columbus, Ohio, she rolled up her sleeves and tried to replicate what she had seen and learnt in her mother's kitchen. She used readily available ingredients from the local markets and began experimenting. The first of those experiments – handmade cabbage rolls stuffed with spiced mashed potatoes – won the recipe a spot on the local newspaper – The Columbus Dispatch. The rest as they say is history!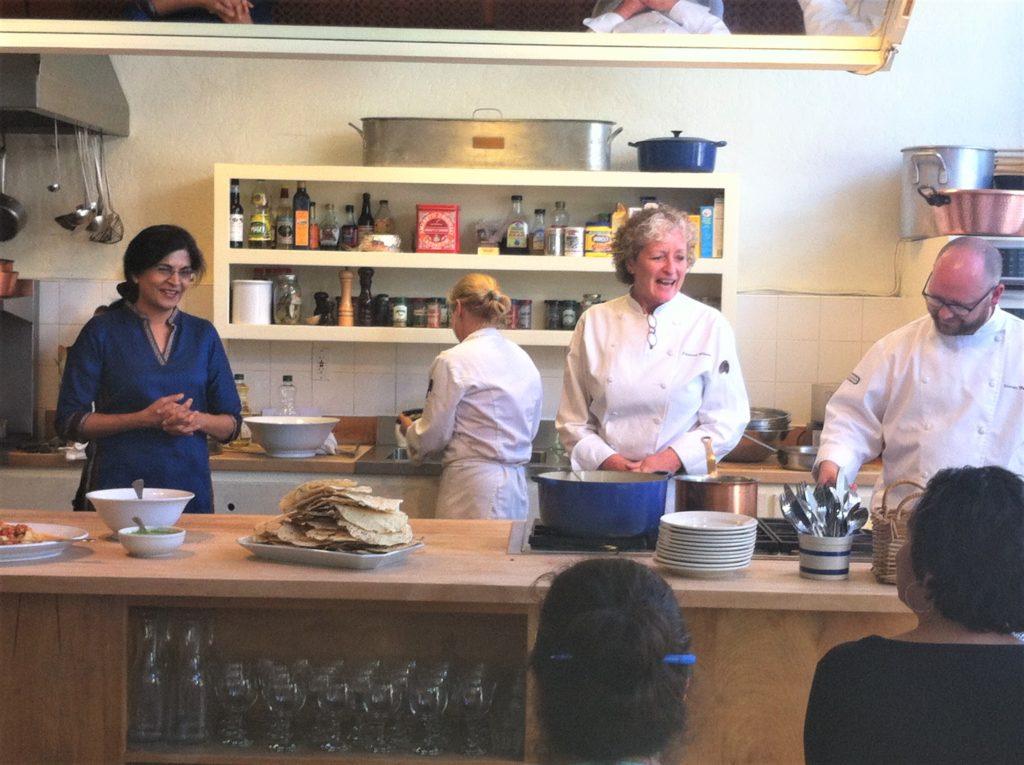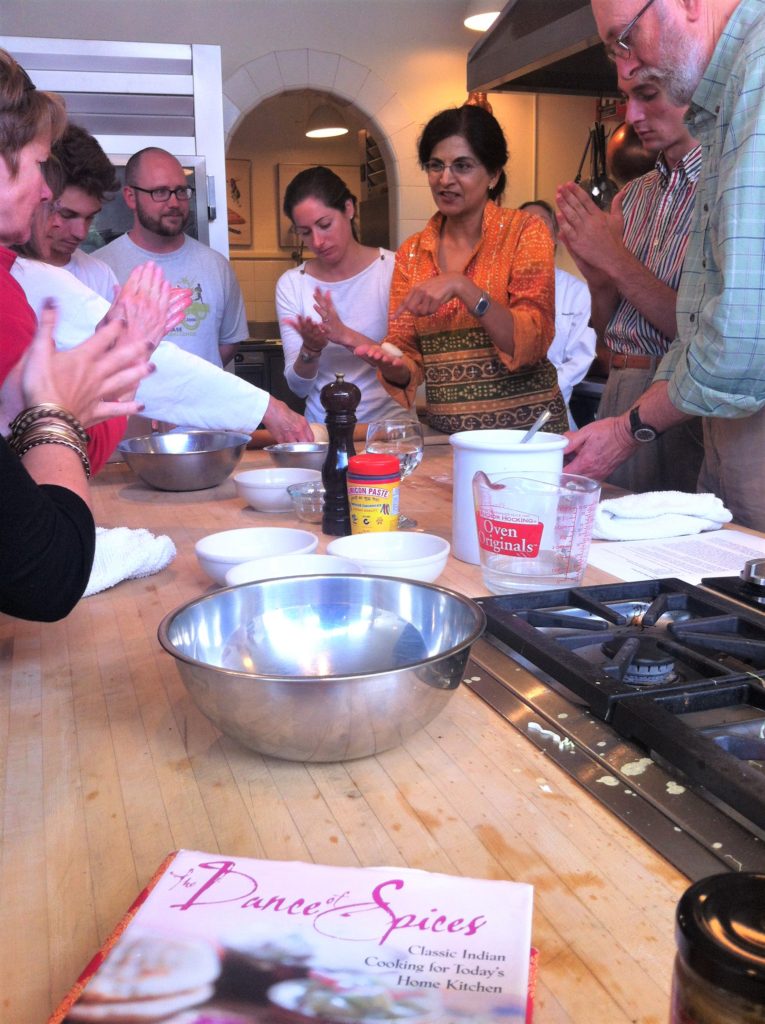 Teacher 
Laxmi has taught cooking at the San Francisco Culinary Academy, Tante Marie's Cooking School in San Francisco, as well as the Napa Valley College, Culinary Institute of America (CIA), and Cakebread Cellars, in the Napa Valley. 
For Laxmi the greatest high comes from people who enjoy her products and recipes. She remembers one student telling her after trying recipes from her books he could tell his father proudly that he now ate the much-maligned broccoli.
Food Consultant
As a consultant for over two decades to well-known restaurants across the Bay Area, she created recipes for Roxanne's Raw in Larkspur. Instituted the Tandoor Corner at Jeremiah Tower's famous Stars Restaurant in San Francisco. As Member Chef's Council at Center for Culinary Development, she helps with ideation and recipe development for Kellogg's, Kashi, Yoplait, Dannon, Sabra, Sara Lee, Nestle, Quaker, and Uncle Ben's. Her recipes were featured in the dining halls of University of California at Davis.